FRENCH POLYNESIA CAMPERVAN RENTAL AGENCY

Résidence Tamahana
98701 ARUE
TAHITI POLYNESIE FRANCAISE
Open every day from 9 a.m. to 7 p.m, By appointment

NICOLAS AND VIRGINIE WELCOME YOU TO THE FRENCH POLYNESIA VAN-AWAY AGENCY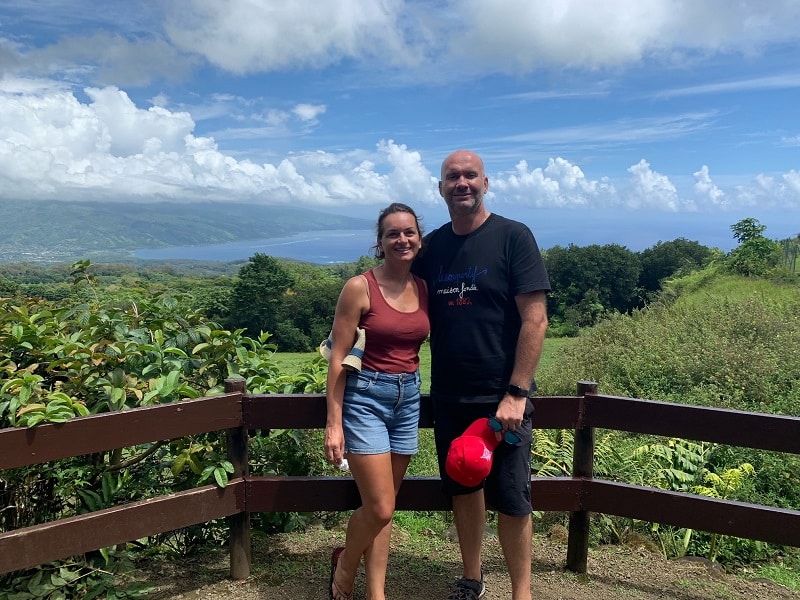 Virginie and Nicolas are the team that will give you a warm welcome and take care of you so that your roadtrip becomes exceptional!
In their differences, they complement each other.
Virginie and Nicolas are dynamic, organised, passionate and above all love to please others.
Just as they knew how to make their previous gîte your second home, they will make your van your cosy cocoon.
WELCOME TO THE FRENCH POLYNESIA CAMPERVAN RENTAL AGENCY
A holiday in French Polynesia, who hasn't already dreamt of it?
Mountainous islands bordered by turquoise lagoons, one of the richest aquatic fauna in the world, lush vegetation, fascinating culture, legendary hospitality…
A true haven of peace, like a taste of paradise lost in the middle of the Pacific; enough to completely disconnect and be conquered!
VAN-AWAY POLYNESIA proposes you to discover the islands of Tahiti and Moorea beyond the postcard (and its famous bungalows on stilts for rich tourists!):
Tahiti, the main island of French Polynesia, the real economic lung of the archipelago, deserves the diversion on its own, no matter what anyone says!
Tahiti nui (the big one) :
– Papeete: its colourful market, its promenade on the marina, its colonial "palaces" sheltering administrations deserves at least a day's attention.
– West coast: past the town of Papeete and its galloping urbanisation, you will discover numerous coral reef beaches, archaeological remains and lush gardens.
– East coast: you will discover another facet of the island as this side of the coast is lined with black sand beaches swept by the waves, dear to surfers. It is from this coast that you can venture towards the centre of the island via the Papenoo valley (in a 4X4 accompanied by a guide or by bike): tropical forest, gigantic mountain peaks and waterfalls will be there.
Tahiti iti (the small one) or called the Presqu'île will reveal wilder landscapes:
Here you are far from the hustle and bustle of Papeete. The extreme tip of the peninsula, inaccessible by car, is called Fenua aihere, literally "the bush" in the Tahitian language. You can discover its cliffs "te pari" and watch the famous Teahupoo wave (where the surfing events of the 2024 Paris Olympics will take place) during a boat trip.
Moorea, Tahiti's "sister" island: take your van on board the ferry and disembark after a 45-minute crossing on an island that will enchant you with its postcard landscapes.
The colour of the water, turquoise and transparent, will call you for a swim or a snorkeling session to discover the underwater world. Its 2 legendary bays (Cook and Opunohu) will be the starting point for fascinating hikes through pineapple fields and its lookouts will offer you 180° or even 360°C panoramas if you manage to climb higher.
Circuits and roadtrips have been designed for you according to the time you have and are at your disposal. A charter has been written to bring you help and advice in your organization, you are the pioneers of this new form of tourism, the VAN-AWAY Polynesia agency being the only one currently offering you vans on the territory of French Polynesia.
Amateur scuba diving, surfing and other water sports enthusiasts will be delighted: the activities on offer are numerous. The amateurs of mountain biking and hiking will also be able to find their account, usually accompanied by a guide.
The Polynesian climate is tropical, with a humid maritime climate. The temperature is between 25 and 35°C all year round, with a wetter and rainier season from November to March. French Polynesia can be visited all year round but is most pleasant during the dry months from April to October (relative dryness, it's still the tropics!). Humpback whales are to be discovered during their migration from July to November. Several companies fly daily to Polynesia: from Paris, direct flight but with a stopover in Los Angeles or San Francisco.
THE POLYNESIA VAN-AWAY AGENCY OFFERS
Free secure parking for your car, for the duration of your holiday
Transfers are available from the Papeete International Airport. (additional charge)
Plenty of rental accessories including a bike rack adapted for mountain bike tires as well as enduros…
YOUR ADVENTURE BEGINS AT OUR AGENCY
It seems we can't find what you're looking for.