FORD NUGGET CAMPERVAN RENTAL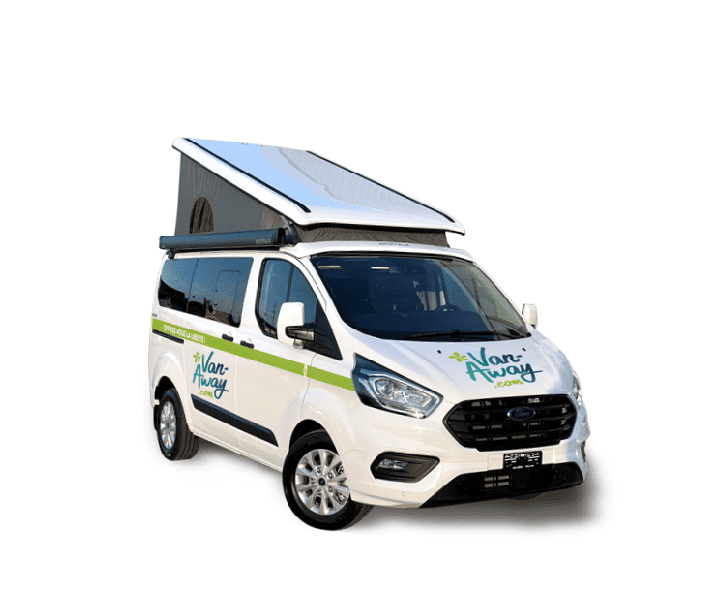 The camper van with XXL kitchen for 5 people...
Ford Nugget and Nugget Plus Westfalia van rental for up to 5 people.
*Average price in low season may vary depending on office
CLICK HERE TO CHECK AVAILABILITY AT THE AGENCY OF MY CHOICE :

300km/day

Two drivers

Brand new vehicle

Europe Insurance & Assistance

Places for the night
FEATURES
HABITABILITY
TECHNICAL SPECIFICATIONS
FEATURES
A newcomer to the French van landscape: the Ford Nugget! Built by Westfalia, in the same factory as its cousin the Mercedes Marco Polo, the Ford Nugget has been around since the 90s and is a real commercial success: so it's about time we were able to offer it for hire!
The layout of the Ford Nugget breaks the mould of what we're used to seeing in a Volkswagen California or a Mercedes Marco Polo, and in many other converted vans on the market. Westfalia's engineers have opted for a rear kitchen area separate from the dining area at the front. The advantages of this layout are numerous: an XXL kitchen where you can stand upright even if the roof bed is lowered, a generous dining area, and above all, 5 real seats with a 3-seater convertible bench!
This 5-seater rental van is the ideal companion for families, but it's not the only one: for two, it also offers first-rate comfort, with a king-size bed on the first floor, and a comfortable bed base designed by Froli.
The equipment in your Ford Nugget van is particularly extensive: as well as a superbly equipped kitchen, with a 40-litre compression fridge, 2 gas rings, a 42-litre water tank and plenty of work surfaces and storage space, the Nugget has swivelling front seats, a bench bed (with 3 seatbelts, people), a very large pop-up roof raised at the rear so you can stand up in the kitchen as well as in the dining area, air conditioning, a stationary heater, an outdoor shower, a 220V power socket… and the list goes on! . and the list goes on!
Travelling in a Ford Nugget van for hire means travelling differently! Its heating and interior living space mean you can go anywhere, whatever the season, and you'll be amazed at how well it drives and how frugal it is at the pump!
And if you've already hired a Volkswagen California or Mercedes Marco Polo, then let yourself be tempted by our Ford Nugget for hire, you'll appreciate its ingenuity and comfort!
HABITABILITY
TECHNICAL SPECIFICATIONS