LYON RHÔNE ALPES CAMPERVAN RENTALS

5 route nationale 6
69570 Dardilly
Monday to Saturday from 9am to 12.30pm and from 2pm to 6pm.
Sundays from 17h to 18h for rental returns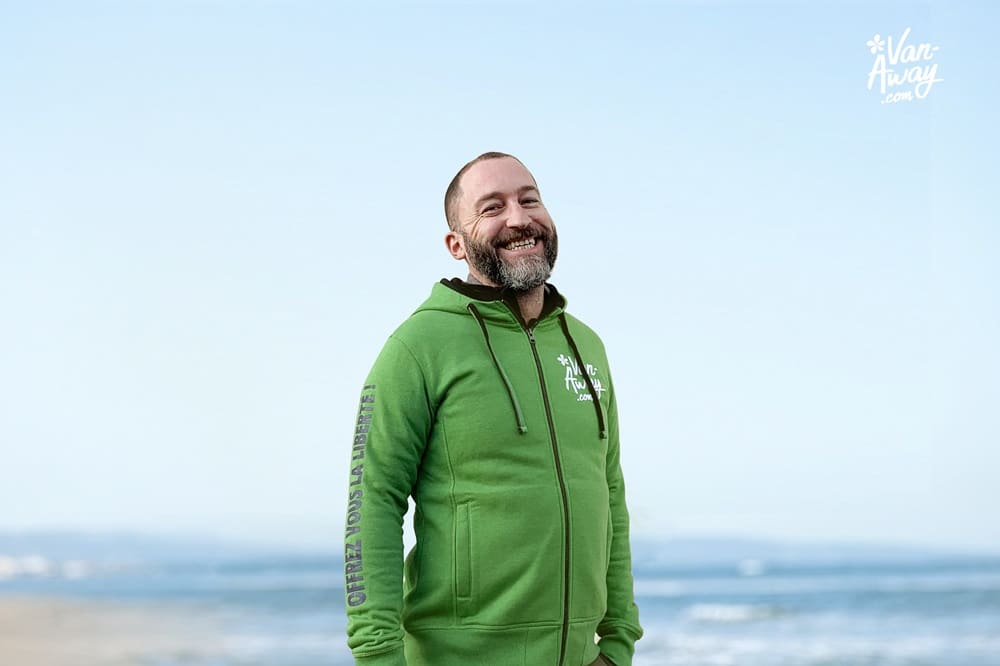 GREGORY WELCOMES YOU TO THE LYON RHÔNE ALPES VAN-AWAY AGENCY
When 4-year-old Gregory took his first road trip between the kitchen and the living room with his metal Matchbox VW T1, a passion was born!
Since then his van love has grown and grown. He takes great pleasure in sharing his Lyon-based trip tips with other van fans.
A high-altitude sports enthusiast and an avid hiker, Gregory is always available to steer you towards his favourite spots.
Check and make sure that he hasn't snuck into the back seat of your van before you set off!
Conveniently located on the outskirts of Lyon and with easy access to major road routes, the VAN-AWAY rental agency, Lyon welcomes you with open arms!
Longing for adventures in the great outdoors? Our vans will take you right to your destination. Whether its a hike in Mont Blanc, a trail through the Vercors, a bicycle climb on one of the Tour de France routes, or a float down the Ardèche gorge on a raft … the most gorgeous natural sites are free for you to explore!
Feeling peckish? Fancy a glass of red or maybe even two? You are in the home of the wine dream team! Bourgogne, Jura, Savoie, Beaujolais, Cotes du Rhône accompany some of the richest culinary traditions in France that come from right here. Bon appetit!
Want to go further afield? How about a splash in a Mediterranean cove or an Italian lake? And how about Croatia? European destinations are at your fingertips!
How about a discovery tour of the mythic sites that make up the Auvergne Rhônes Alpes region ? Vallon Pont d'arc, Chamonix Mont Blanc, the Bourget lake. These places take on a new dimension when seen from a van.
You can access loads of activities and take advantage of the multitude of places to visit in the neighbouring departments. Ain, Cotes d'Or, Savoie, Haute Savoie, Isère, Loire, Haute Loire, Drome, Ardèche and all of the Rhône are ideal destinations for a weekend or a week long trip in a customised van.
The VAN-AWAY rental agency, Lyon offers you a fleet of 3 to 5 seater vans for road trips with family or friends. All our vans are brand new, fully equipped and ready to roll!

FACILITIES OFFERED BY THE VAN-AWAY LYON CAMPERVAN RENTAL AGENCY
Free secure parking for your car, for the duration of your holiday.
Transfer from the Perrache or Part Dieu railway station or the Saint Exupéry Airport to the VAN-AWAY Lyon hône Alpes Agency available on request
A host of optional extras for your camping comfort including: bike racks, chemical toilets, gas-barbecues, awnings… fant, sièges auto enfants…
It seems we can't find what you're looking for.