MARCO POLO CAMPERVAN RENTAL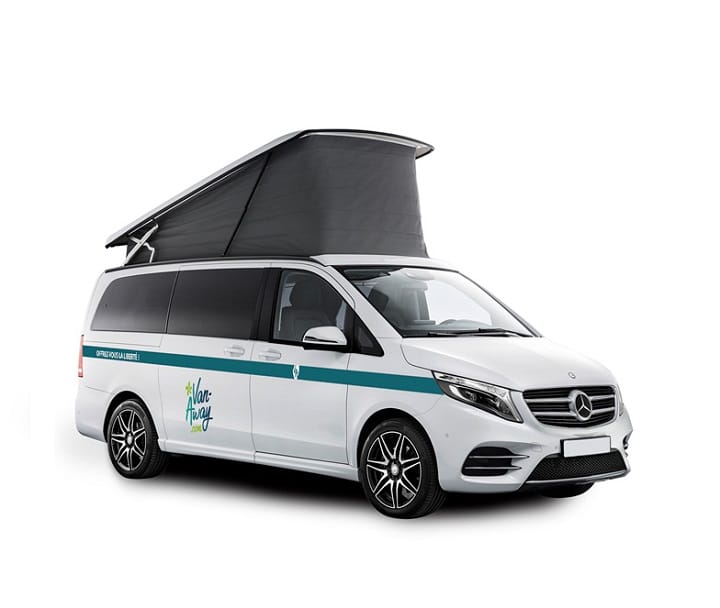 The 4-star hotel on wheels for 4 people...
Marco Polo Mercedes Campervan to travel up to 4 people.
CLICK HERE TO CHECK AVAILABILITY AT THE AGENCY OF MY CHOICE :

300km/day

Two drivers

Brand new vehicle

Europe Insurance & Assistance

Places for the night
FEATURES
HABITABILITY
TECHNICAL SPECIFICATIONS
FEATURES
Conceived along the lines of the mythic Westfalia designs and housed within the superb Mercedes Class V, the Mercedes Marco Polo is the only van that combines sheer luxury with pure practicality!
Its interior design is a pleasure to behold, but there's so much more to it than that! High-end construction and gorgeous finishings beside, the generous storage space and above all else "ahh" – inspiring comfort it affords (both seated and supine) makes the Marco Polo a 4-star hotel on wheels! The behind-the-wheel pleasure is intense and as easy to handle as a car. What's even better, there are no extra toll charges as it measures less than 2 meters high.
Designed to carry up to 4 people, the Mercedes Marco Polo offers somewhat more space than its cousin, the California van. It's chic exterior will turn heads when you drive by!
Its layout and standard of equipment offers high level comfort for up to 4 people: Interior kitchen (2-ring gas stove, 40 litre fridge, sink and storage), swivel front seats, closet and storage units, sofa bed (2 people), lift-up roof creating standing room space within the van and offering an additional bed (slatted double bed base) air conditioning, cruise control, stationary heating, 220V sockets and the list goes on. The Mercedes Marco Polo allows you year-round comfort — air conditioning, stationary heating, indoor kitchen and black-out curtains are all included.

Day and night configuration
HABITABILITY
TECHNICAL SPECIFICATIONS