USHUAIA CAMPERVAN RENTAL (with pop-up roof)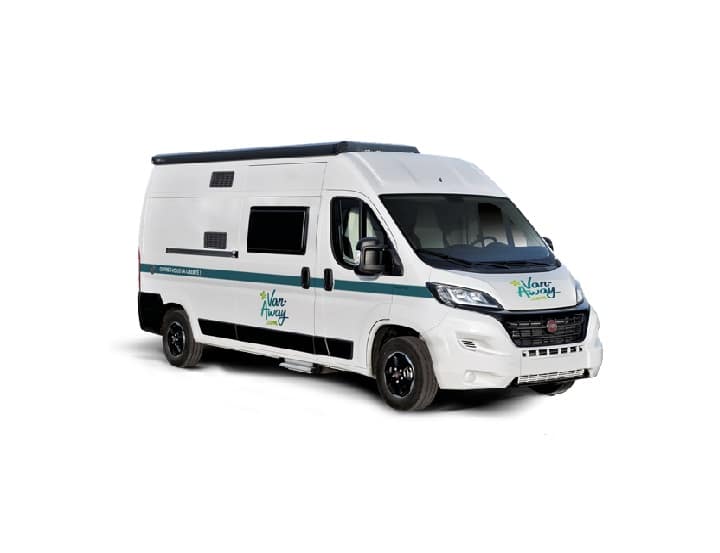 USHUAIA CAMPERVAN WITH POP UP ROOF
The campervan with 4 large berths for travelling with family or friends...
Fitted van Fiat Ducato or Citroën Jumper for 4 people.
*Average price in low season may vary depending on office
CLICK HERE TO CHECK AVAILABILITY AT THE AGENCY OF MY CHOICE :
WHY RENT IT WITH VAN-AWAY?
INCLUDED IN THE RENTAL PRICE

200 km/day

Two drivers

Brand new vehicle

Europe Insurance & Assistance

Places for the night
FITTING
HABITABILITY
TECHNICAL DETAILS
FITTING
For those seeking all the comfort and convenience of a camping car in a smaller scale, the customised, 4-5 seater Patagonia van is for you!
The Patagonia series vans are the only ones to offer in addition to stationary heating, a shower stall (with hot water, of course) and a WC.
A high capacity water supply, lots of storage space, solar panels, two gas bottles, a roomy fridge : the Patagonia provides really long-term autonomy.
This converted van, a small camping car, is ideal for couples who want maximum comfort or for families. The 4-seater version (5.41m long and 2.60m high) has a double bed below and two single beds in the front. There's a 5-seater version (5.99m long and 3m high) that has 2 bunk beds in the back, a double bed in the middle and a removable spare bed that can be put up over the two front seats.
The customised Patagonia van is also ideal for campers on a budget who nevertheless seek a vehicle that is easy to drive and park and does not compromise on comfort.
The customised Patagonia van is designed for year-round travel, even in the heart of winter, thanks to its insulation, its stationary heating system, its on-board shower and its large living space.

Day and night configuration
HABITABILITY
TECHNICAL DETAILS