NICE RIVIERA CAMPERVAN RENTAL AGENCY

61 Route de Grenoble,
06200 Nice FRANCE
Monday to Friday from 9am to 12.30pm and from 2pm to 6pm by appointment.
Saturdays from 9am to 12.30pm and from 2pm to 5pm by appointment.
Sundays from 17h to 18h for rental returns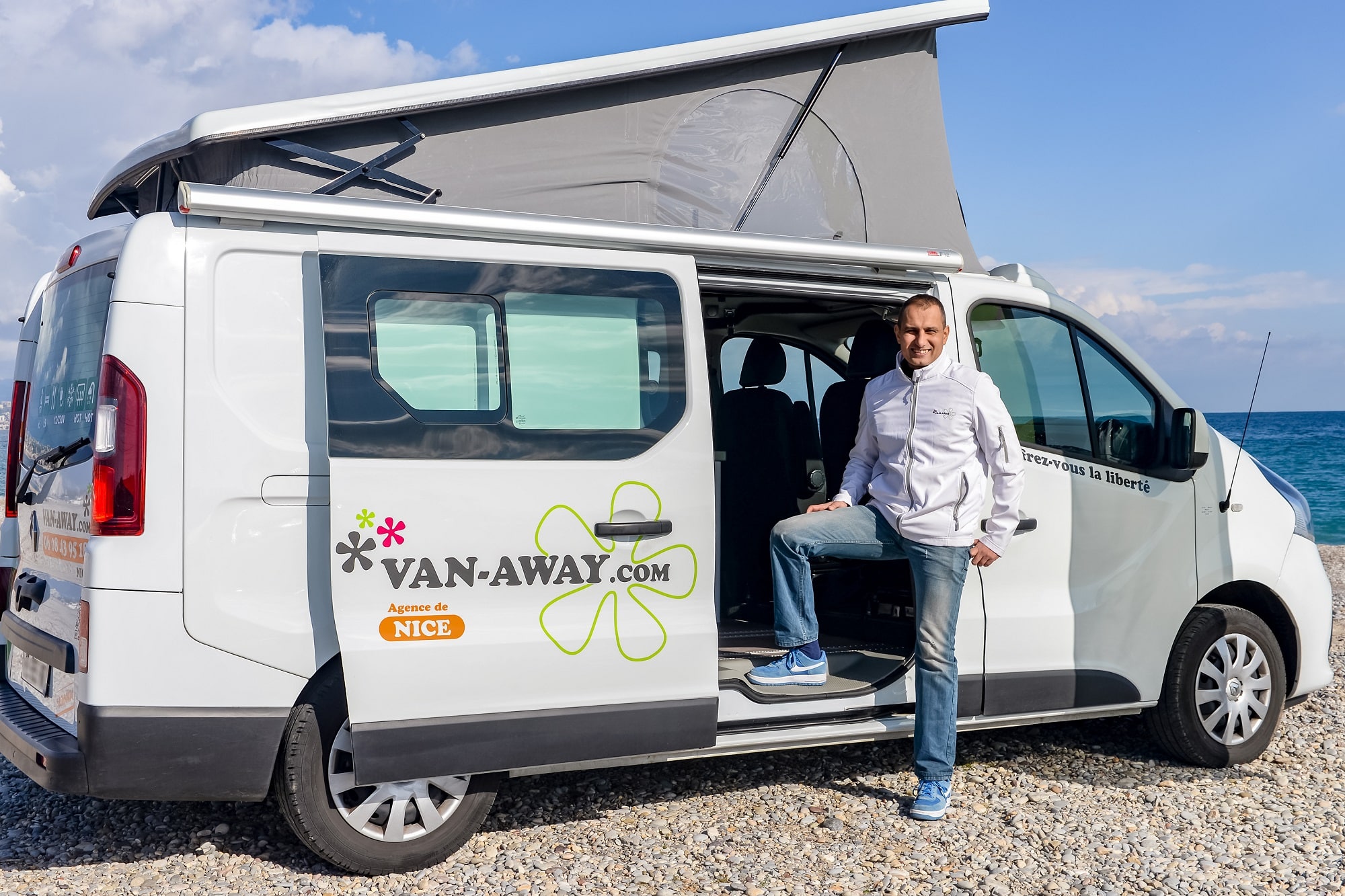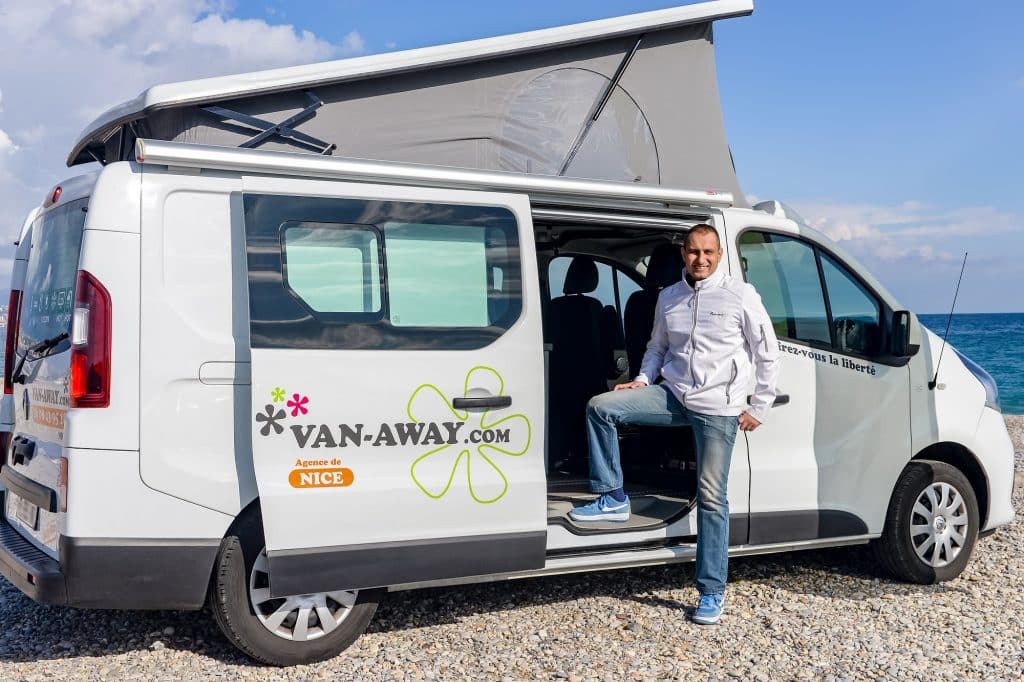 FRÉDÉRIC WELCOMES YOU TO THE ANNECY VAN-AWAY AGENCY
A desire to start his own business and his love of travelling drove Frédéric to join the Van-Away network.
Frédéric is a long-standing risk-taker whose love of adventure and contempt for boredom helped him make his decision.
He likes to be under the sea. A keen sportsman, Frédéric spends his free time on and in the water or hovering above it in surf kite.
Outgoing and adventurous, he has lots of great, off-beat tips for making the most of your trip.
Welcome to VAN AWAY campervan hire Nice French-riviera !
Conveniently located 10 minutes from the Nice Airport, the VAN-AWAY Nice Riviera campervan rental agency holds the (car) keys to your dream holiday whether for a weekend or for the long haul.
Open your windows and inhale the perfume of the Provence lavender fields. Perfect your yodeling skills in the heart of the Alps or head due south and plunge into the azure blue Mediterranean Sea. Wherever you go, the South of France will cast a spell on you !
The Provence / Cote d'Azur region is the number one tourist destination in France. With year-round sunshine, the legendary Mediterranean Sea and the unique orchre-infused charm of the Provence countryside punctuated with Cyprus trees that look like exclamation points "!" Wow!!!
Do you know the way to St Tropez? Sink your toes into the sandy beaches that hug the Mediterranean shore from Saint-Tropez to Menton. Take a Provençal selfie with a backdrop that inspired Cézanne. Do you want to experience the high life? Don't miss the wild Alpine terrain in Mercantour
A red carpet welcome awaits you at the glamourous Riviera film festival. Want to be a part of it? Yes you Cannes, with your customised camper van rental from VAN-AWAY Nice – Riviera agency.
Mamma Mia! Is your van filling with the aroma of freshly cooked pasta? You must have driven into neighbouring Italy! Taste your way through the stunning Italian lake district that borders France or sail off with your VAN-AWAY camper van to the iconic island of Corsica.
FACILITIES OFFERED BY THE VAN-AWAY NICE RIVIERA CAMPERVAN RENTAL AGENCY
The VAN-AWAY Nice – Riviera campervan rental agency is delighted to offer you a fleet of custom fitted Ibiza minibuses for your cultural or sporting jaunts (seats up to 7) or your summer hols (seats up to 5), and customised volkswagen California camper vans (4 seats) for your family roadtrips . All our customised vans are brand new, fully equipped and ready to (rock and) roll!
Transfer from the NICE COTE D'AZUR international airport, or from the Saint Laurent du Var railway station, to the VAN-AWAY nice riviera Agency available on request
Possibility of transfer from Saint Laurent du Var train station or Nice international airport to the VAN-AWAY Nice Côte d'Azur agency (service for a fee).
A host of optional extras for your camping comfort including: bike racks, chemical toilets, gas-barbecues, awnings…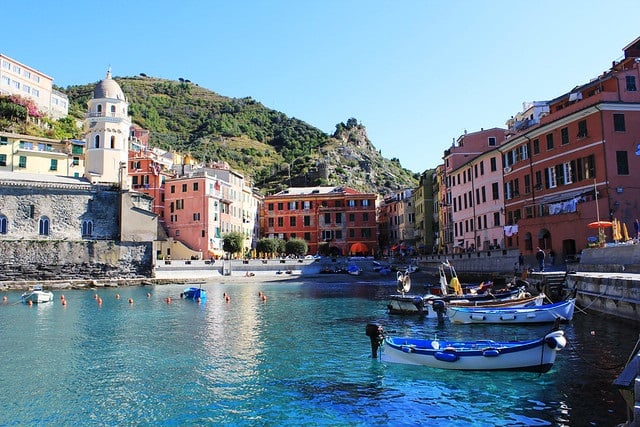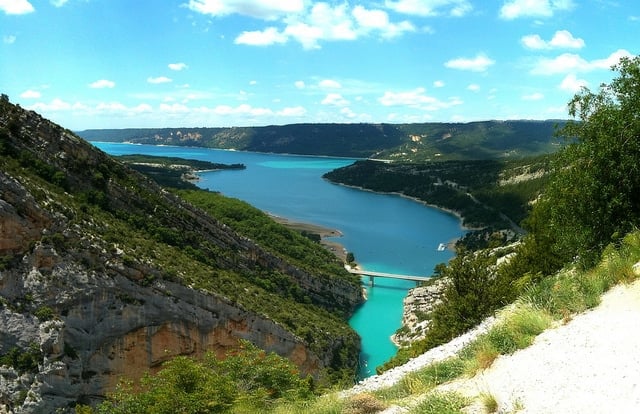 4 days in the VERDON GORGES
The Gorges du Verdon are the deepest in Europe. The insanely turquoise, green water that flows through them has to be seen to be believed! A perfect backdrop for a sensational road trip!