DIJON BOURGOGNE CAMPERVAN RENTALS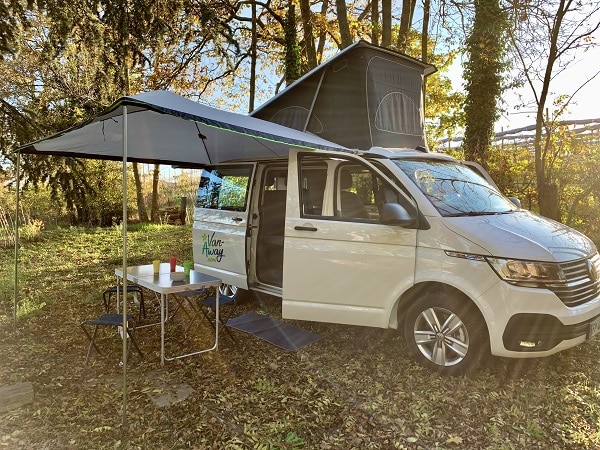 CHRISTOPHE WELCOMES YOU TO THE LYON DIJPN VAN-AWAY AGENCY
Christophe welcomes you to the Dijon agency, adventurous but not too adventurous, he is always looking for a good idea.
After having criss-crossed a good number of Mediterranean islands, he will know how to make you discover with enthusiasm the cultural wealth and the most beautiful corners of the Burgundy Franche-Comté region.
His greatest satisfaction: to see you come back with a smile.
WELCOME TO VAN-AWAY DIJON
Ideally located near the motorway exits, the VAN-AWAY van rental Dijon agency welcomes you!
Envy of outdoor activities? Our vans will take you as close as possible to your destination. Whether it's a hike in the Morvan, a climbing weekend on the edge of the vineyards, a ride in a canoë on the Loue … the most beautiful natural sites are open to you, in complete freedom!
Demand for gastronomy? The good wines of world renown Burgundy, Jura, will be consumed in moderation. The best of the culinary heritage for a pleasure-rich escape.
Looking for an adventure further afield? The Vosges, Alsace and La Switzerland will also ensure a total change of scenery. The European destinations are within driving distance.
What if you went to discover or rediscover the mythical sites of our beautiful Burgundy Franche Comté Region, the Hospices de Beaune, the lac de Vouglans , the Canada du Morvan.
In van all these places take on a new dimension!

Your VAN-AWAY rental van Dijon agency offers a fleet of vans with 3 to 5 seats for road trips with your family or with friends.
All of our vans and vans are brand new and fully equipped for adventure.
FACILITIES OFFERED BY THE VAN-AWAY DIJON CAMPERVAN RENTAL AGENCY
Secure parking for your car during your stay.
Possibility of delivery or transfer to the SNCF station of Dijon city (paying service)
A host of optional extras for your camping comfort including: bike racks, chemical toilets, gas-barbecues, awnings… fant, sièges auto enfants…
It seems we can't find what you're looking for.