CALIFORNIA CAMPERVAN RENTAL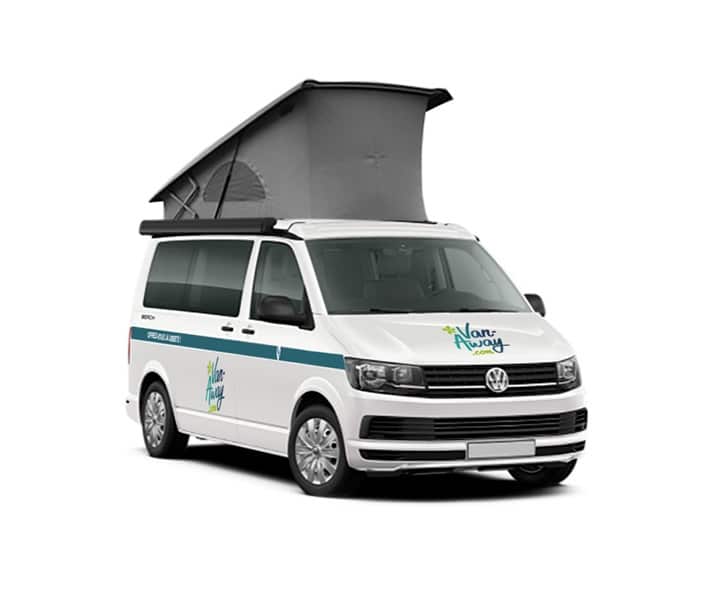 The legendary campervan for 4 people...
Volkswagen customised campervan to travel up to 4 people.
CLICK HERE TO CHECK AVAILABILITY AT THE AGENCY OF MY CHOICE :

300km/day

Two drivers

Brand new vehicle

Europe Insurance & Assistance

Places for the night
FEATURES
HABITABILITY
TECHNICAL SPECIFICATIONS
FEATURES
The Volkswagen California campervan is a direct descendant of the inconographic 60's VW combi bus that is still the reference for customised vans today !
Its furnishings, the quality of its manufacturing and its ingenuity make it a veritable home on wheels. And it handles as easily as a car (and doesn't cost more at the toll booth owing to its height less than 2 meters)
Built to accommodate up to four people, the Volkswagen California campervan is the ideal choice for your comfort, your budget and your image ! You'll turn heads as you cruise along in this legendary van which, thanks to the decorators at VAN-AWAY will mean you'll never go unnoticed !
Its high standard of equipment brings all the comfort of a mini camping-car : a built-in kitchen (2 gas burners, a 42L refrigerator, sink and storage), front seat swivelling chairs, a hanging closet and storage units, a fold out sleeping berth (for 2 people), electric pop-up roof, allowing for standing room inside the van and providing an additional sleeping area (slatted bed frame for 2 persons) air conditioning, cruise control, auxiliary heating, heated seats, 220V plugs to name just a few of the features that will smooth your way.
The Volkswagen California campervan allows you to travel in any season with its air conditioning, auxiliary heating, its built-in kitchen and insulated black-out curtains.

Day and night configuration
HABITABILITY
TECHNICAL SPECIFICATIONS