Van rental Bastia Corsica

Airport road
20290 Lucciana
Monday to Friday, by appointment, from 9:30am to 12pm and from 2pm to 6pm.
Saturday by appointment from 9:30am to 12pm
Sunday from 5pm to 6pm for rental returns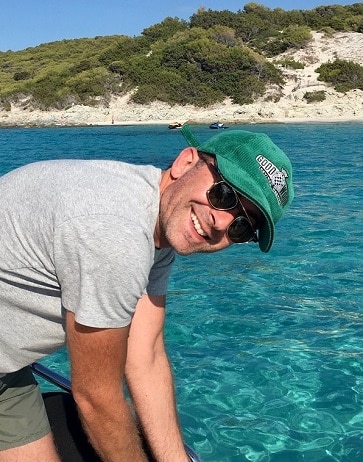 JULIEN WELCOMES YOU TO THE BASTIA CORSICA VAN-AWAY AGENCY
Julien, a young father in his forties and a native of the Isle of Beauty, has been a travel enthusiast and curious about the world since he was a child.
From his profession as a hotelier, his specialty is the warm welcome and enthusiasm to share the most beautiful corners of his region to his guests.
He will be delighted to make you discover the van-life Made in Corsica.
…Andemu a fare un giru! A prestu …"
Welcome to VAN-AWAY CORSE van rental !
The VAN-AWAY location van Bastia Corse, opens the doors of the Isle of Beauty to you.
Set out to discover the Cape Corse, the Balagne, Corte, the Curtinese, and the Castagniccia less than an hour from your van and van rental.
A stone's throw from Bastia's airport, rent a van or van for a touring trip under the sign of nature and guaranteed adventure.
On board your converted van, you will be able to cross Corsica in its heart and discover places of breathtaking beauty, sleep in
unique places under starry skies that will mark you forever!
From our most beautiful Corsican coasts to our wonderful mountains, the converted van will allow you to discover and appreciate, according to your desires, these majestic landscapes. You will be able to fully enjoy every moment in
van, on excursion, hiking or cycling once your van is parked!
Calm, serenity, adventure and ddiscovery will be the key words of your itinerant trip in a converted van in Corsica.
In the Corsican Cape, visit magical and surprising villages, marvel at the islands of Elba and Capraia, and experience that end-of-the-world feeling when you're at the point.
In Balagna, travel the wine and artisan routes with the sea as your backdrop.
In the Curtinese don't miss the Restonica Valley for a moment of relaxation by the river and enjoy a
impressive view of the island's highest mountains.
In Castagniccia, marvel at the lush vegetation,
discover a whole historical heritage and authentic people.
FACILITIES OFFERED BY THE VAN-AWAY CORSICA BASTIA CAMPERVAN RENTAL AGENCY
800m walk from Bastia airport
Possibility to leave your vehicle on site for the duration of your rental

Flotte de voitures et de véhicules aménagés adaptés à tous les types de road-trip

A number of optional extras are available for your van including: awnings and pop-up tents, chemical toilets, barbecues, bike racks, carry cots, child car seats…
It seems we can't find what you're looking for.