Day 1 – Barcelona –> Palma
For the crossing to Palma, the easiest way is to board a Balearia or Trasmediterranea boat in Barcelona. Use a search site such as https://book.aferry.fr/ to check availability and prices. Crossings can be made during the day or at night! Our advice: try the outward journey at night (arriving in Palma in the morning is a real treat) and the return journey during the day (an opportunity to admire the scenery from the deck and, if you're lucky, spot dolphins or even whales…).
Once you've disembarked in Palma, the adventure begins! A visit to the city is compulsory, as there are many points of interest, including :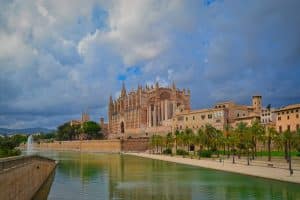 La Seu Cathedral, whose real name is Catedral-Basílica de Santa María de Palma de Mallorca, the largest religious building on Mallorca and the second largest in Spain after Seville Cathedral. A masterpiece of Catalan Gothic architecture, it is the only Gothic cathedral built on the seafront.
a walk along the seafront in the Parc de la Mar, to enjoy some of the best views of the city and coastline
a visit to the old town and its multitude of patios. An itinerary is proposed by the Balear agency and available here. Thanks to them, it's top notch!
For art lovers, there are some superb museums dedicated to Miro (who died in Palma in 1983) and also Picasso: the Pilar and Joan Miro Foundation and the very interesting Es Baluard Museum of Modern Art.
Take advantage of your lunch break to visit the city's market, the Mercat Municipal de l'Olivar, and eat tapas at the Bar des Peix. You're guaranteed total immersion in the Catalan way of life!
There are two options for your evening:
Dine at one of Palma's many fine restaurants, such as Celler Sa Premsa, before heading off to find your spot for the night, or
head west to find your dream spot for the night and dine there facing the sea: we suggest the Cala Falco beach car park. Paradise? You haven't seen anything yet!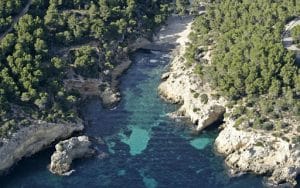 Day 2 – Andratx – Estellencs – Banyalbufar
The winding road from Andratx to Soller is undoubtedly the most beautiful on Mallorca: magnificent coastal scenery alternating between scrubland plunging into the sea, wild coves and sumptuous cliffs…
Two villages are well worth a visit:
Estellencs, the island's smallest village, exudes authenticity. Time seems to have stood still here, and we recommend you do the same!
Banyabulfar is one of the most beautiful villages on Mallorca's west coast: a unique setting of hills carpeted with terraced fields, with a spectacular view over a cove and its beaches…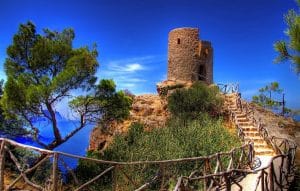 Just before Banyalbufar, your van will make a compulsory stop at Torre Del Verger: this small 17th-century tower is one of Mallorca's most emblematic monuments. You won't be able to forget the breathtaking view of the cliffs between the mountains, the sea and the sky.
If you're feeling sporty, there's a lovely coastal walk from Banyalbufar to Port d'Es Canonge, which takes just 1? hours.
For the night, take your campervan down the narrow Cami des Moli street in the village of Banyalbufar to the superb car park overlooking the sea, known as Cala Chula. A magnificent vantage point for your dinner! If you don't have any wheel chocks, use the many flat stones available to park your van horizontally!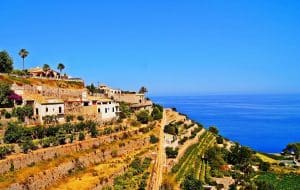 Day 3 – Deia – Soller
Our van route continues north-eastwards, passing through the village of Valldemosa. History buffs will want to stop off at the Reial Cartoixa de Valldemosa (Royal Carthusian Monastery of Valldemosa), where they can see Chopin and George Sand's bedroom. Others will follow this magnificent road lined with olive trees to the village of Deia, and its magnificent Cala de Deya cove. A not-to-be-missed destination for painters and artists, this village stands out not only for its beauty, but also for its cultural richness. In fact, it has been declared a UNESCO World Heritage Site.
After your visit, head for Soller, then 6km before reaching it, turn right towards Palma on the MA11 for a charming stop at the Alfabia gardens, a veritable oasis in the middle of a landscape of scrubland.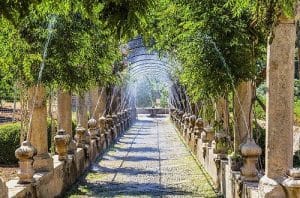 Back towards Soller for a delightful visit: this charming little town set in the middle of an absolutely superb mountain cirque will win you over. Park your campervan and stroll through its narrow streets, stop off at the museum housed in an old station hall, Sala Picasso e Miro, and above all take the old wooden tram to Port de Soller, the town's port just a few kilometres away!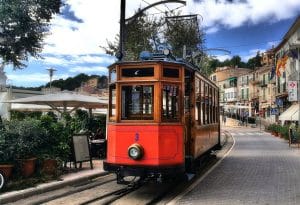 If you fancy a good meal, take the opportunity to sample the local specialities in Port de Soller at the Campo Sol restaurant.
And there's a magical place to spend the night: park your van or camper van under the Port de Soller lighthouse for a sumptuous view!
Day 4 – Binaraix – Fornalutx – Sa Calobra
A superb day is in store for you, taking in some truly exceptional sites!
It starts with an impressive morning walk through the Biniaraix ravine, a hiking trail that climbs along cobbled paths alongside terraces planted with centuries-old olive trees: a guaranteed highlight! If you're feeling more sporty, the hike can end at the artificial lake at Cúber (6h round trip), but don't worry: you can turn back whenever you like, but certainly not before the crossroads at the 'Madona des Barranc', where you'll discover a gnarled tree of great beauty and incomparable charm. A very good account and description of the walk can be found on this page.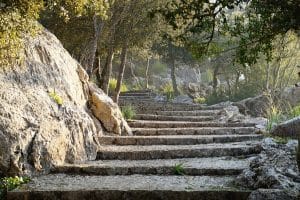 Back in your campervan, head for Fornalutx, one of the most beautiful villages in Spain!
And we've saved the most impressive part for the end of the day: drive up to Sa Calobra and then down a spectacular winding road (12 180° bends and one… 360° bend!) towards the sea to discover, at the end of the day, the fault carved out by the Torrent de Pareis, which flows into the sea.
For the night, drive a few kilometres up this fabulous road and turn right towards Cala Tuent, a wild beach lined with majestic olive trees (trunks of almost 3m in circumference!) where you can park peacefully, alone in the world, especially in the off-season.
Day 5 – Formentor – Alcudia
We can end this fabulous discovery of Mallorca's north-west coast by heading for the Formentor peninsula.
The first stop on this epic journey is the Talaia d'Albercutx watchtower, a lookout point against the constant threat of corsairs, from where you can enjoy a breathtaking view! If you're afraid of heights, this site – which is completely safe – is not for you…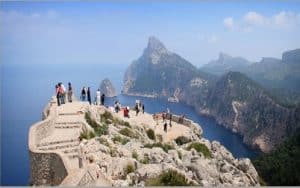 With your eyes fully rinsed by this extraordinary landscape, it's time to continue on the road in your van or camper van towards the cape, as far as the lighthouse, where you'll travel through totally wild and grandiose landscapes, coming across wild goats here and there along the way!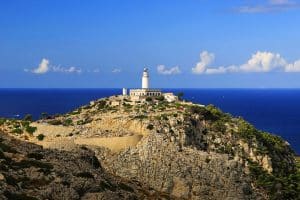 This concludes your exploration of Mallorca's west coast: it's time to return to civilisation by heading for Alcudia, an old walled town well worth a visit. If you fancy a bite to eat, there's a good table at Ca'n Costa.
For the night, we strongly advise you to take the road to Cap Des Pinar, and along this road, before reaching the military zone, to stop your van at a small car park overlooking the sea (very beautiful views). You'll be on your own there, and won't be bothered by passing cars… but no doubt by curious goats!
Day 6 – Cap des Pinar – Mondrago
Last day before the return journey, which will take you through a whole new landscape on Mallorca's south-east coast. Less wild, it nevertheless offers some simply stunning beaches, including :
The pretty little beach of Cala Varques, south of Porto Cristo, which you'll reach after a 25-minute walk.
and above all, in the pretty Mondrago park, S'Amarador beach, a real picture-postcard lagoon.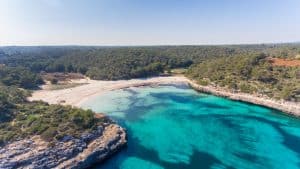 A quiet moment on this Balearic roadtrip, an afternoon on this dreamy beach is highly recommended!
For the night, we suggest another equally majestic site where you can park easily: Cala Llombards, a cove with turquoise waters covered in pine trees.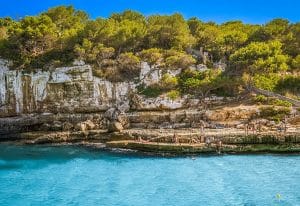 Day 7 – Cala Llombards – Palma
Depending on the time of your boat's return crossing, you can stroll around Cala Llombards, or if you prefer, return to Palma to finish the visit.the crossing – if you make it during the day – will give you the chance to admire the island's coastline and look out for the dolphins and whales that cruise these Mediterranean waters.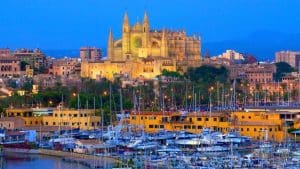 We hope you've enjoyed this roadtrip to the Balearics!