MINI TEARDROP CARETTA RENTAL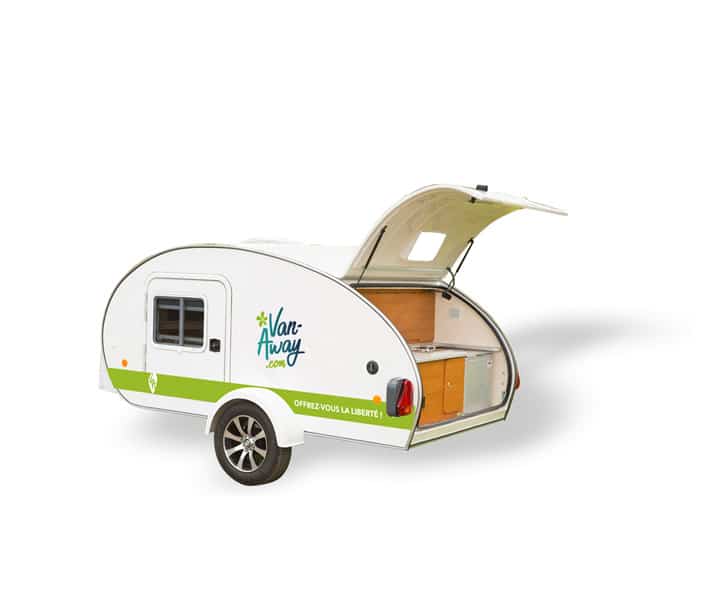 The mini teardrop for 2 adults and one child...
The mini teardrop budget trailer for 2 adults…
CLICK HERE TO CHECK AVAILABILITY AT THE AGENCY OF MY CHOICE :

New caravan

Europe Insurance & Assistance

Places for the night
FEATURES
HABITABILITY
TECHNICAL SPECIFICATIONS
FEATURES
A born-again legend in the caravan world, the Caretta mini-caravans have taken France by storm and you can hire one through VAN-AWAY.
With its classic design based on the famous American "Teardrop" trailer from the 1940's, the Caretta mini-caravan has a unique look and a standard of equipment never before found in such a small space.
Tiny in size (measuring 1m71 high), you will nevertheless find a wide range of accessories and equipment within : an XL bed 150cm x 200cm, kitchen with fridge, sink, water tanks, a camping stove as well as lots of cupboards.
With its payload of more than 200 kg, the Caretta mini-caravan allows you to set off with the maximum amount of equipment: tables, chairs, camping equipment, and all of your personal gear!
The Caretta mini-caravan allows you to experience the joy of caravaning without all the hassle of towing a huge trailer: easy-to-drive and light it can be towed by a wide range of cars! No worries about road handling or your overspending your petrol budget.
You want to travel with up to 6 or 7 people? Hitch up the Caretta mini-caravan to one of our Ibiza minibuses and away you go!
HABITABILITY
TECHNICAL SPECIFICATIONS