MINI TEARDROP CARETTA RENTAL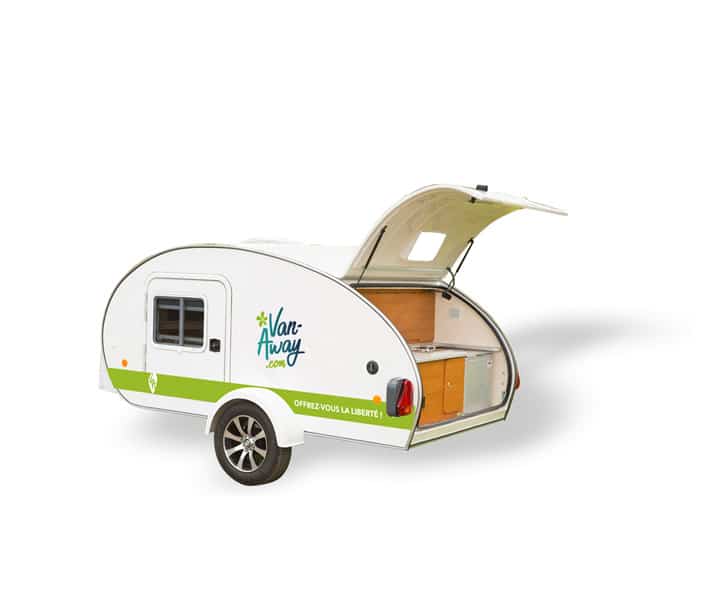 The mini teardrop for 2 adults and one child...
The mini teardrop budget trailer for 2 adults…
CLICK HERE TO CHECK AVAILABILITY AT THE AGENCY OF MY CHOICE :
CLICK HERE TO CHECK AVAILABILITY AT THE AGENCY OF MY CHOICE :

New caravan

Europe Insurance & Assistance

Places for the night
FEATURES
A born-again legend in the caravan world, the Caretta mini-caravans have taken France by storm and you can hire one through VAN-AWAY.
With its classic design based on the famous American "Teardrop" trailer from the 1940's, the Caretta mini-caravan has a unique look and a standard of equipment never before found in such a small space.
Tiny in size (measuring 1m71 high), you will nevertheless find a wide range of accessories and equipment within : an XL bed 150cm x 200cm, kitchen with fridge, sink, water tanks, a camping stove as well as lots of cupboards.
With its payload of more than 200 kg, the Caretta mini-caravan allows you to set off with the maximum amount of equipment: tables, chairs, camping equipment, and all of your personal gear!
The Caretta mini-caravan allows you to experience the joy of caravaning without all the hassle of towing a huge trailer: easy-to-drive and light it can be towed by a wide range of cars! No worries about road handling or your overspending your petrol budget.
You want to travel with up to 6 or 7 people? Hitch up the Caretta mini-caravan to one of our Ibiza minibuses and away you go!
HABITABILITY

SPACE
The Caretta mini-caravan offers a super comfortable layout that allows you to be completely independent : you tow your own hotel room!
Tow the Caretta trailer with your own car. Ideal for 2 campers and a wee traveller as well. The bed is large and comfy and your small child can easily sleep alongside you. Easy to drive, stable on the road and with no incidence on your insurance, all you need is a tow bar and your adventure can begin!
But what if we want to travel with 6-7 people? We have lots of friends! No problem, choose to hire our customised Ibiza minibus and tow the little Caretta behind. You will have 7 seats, 7 beds, a kitchen and plenty of storage! We can't call this a road trip, it's a house party on wheels!

BETH
Open the door to your Caretta caravan and here's what you'll find : a large, comfortable bed (140×200) big enough to sleep two adults and a young child.
The bedding optional extra which includes hand towels includes all that you need. Don't worry about packing sheets, duvets, duvet covers, pillows or pillow cases. They are all included for a small additional charge.
You want to travel with up to 6 or 7 people? Hitch up the Caretta mini-caravan to one of our Ibiza minibuses and away you go!

CHILDREN
Hitting the road with your baby or your children? An excellent idea… they adore a great big adventure and you can easily combine travelling with childcare. Nap time? Snack time? What could be easier than pulling over, parking and looking after them? And all those wasted holiday moments spent looking for a hotel or a restaurant…you just need to find a place to park and everything is under your roof! It's called freedom…
Are you coming from far away via train or plane? No problem, we can arrange child car seats (catagories 1-3).
For sporty types, backpacks allow you to carry your gear when you head into the great outdoors – maximum weight : 18kgs. Ask your VAN-AWAY agency about the availability of other optional extras when you make your booking.

KITCHEN
Our Caretta mini-caravans offer you an XL kitchen that you can access from behind.
The kitchen is fitted with a sink, clean and waste water tanks, a camping stove + gas cylinder, storage space, dishes and all you'll need to whip up simple meals.
Go for the optional extra gas barbecue that includes all the cylinders you will need throughout your trip. This extra appliance allows you to grill meat, fish and veggies outside even in places where traditional barbecues are prohibited.

SHOWER
All of our vans and mini-caravans are customised by professionals. They have thought of everything, every square centimeter is used so there is no wasted space.
Rince yourself off after a day at the beach or trekking through the mountains. All our vans and mini-caravans are fitted with a hand-held shower. Go for the portable shower optional extra that works off of a hot, pressurised water tank. The Tasmania and Marco Polo vans benefit from an oversized water reservoir. The optional extra hatchback tent turns the back of the van into an instant shower stall!
In addition, all of our vans have built-in 12V outlets, LED lights, and lots of well-designed storage spaces to store your gear.

ELECTRICITY
All our vans and mini-caravans are equipped with fresh water tanks that contain from 20 to 60 litres depending on the models. Some have waste water containers that can be emptied regularly at designated sites.
In addition, all of our vans and mini-caravans have 12V outlets using the cigarette lighter or USB so you can recharge your phone or tablets.
All our vehicles are fitted with one or more auxiliary batteries that give you 2-3 days of autonomy for running the fridge, the water pump, lights etc). Do you spend lots of time driving? These batteries recharge automatically. Will you be staying put during your trip? Hook up your van or mini-caravan to mains electricity with the cable provided to recharge your batteries.

ACCESSORIES
Do you want even more comfort and convenience?
VAN-AWAY offers a host of optional extra accessories to give your tent a personal touch.
TECHNICAL SPECIFICATIONS
Your own carr or our Minibus Ibiza
Width : 2,5m / Length : 3,05m / Height: 1,75m
Fuel consumpt.(manufacturer data)
Easy-to-drive and stable – No need for additional car insurance
Stationary heating system