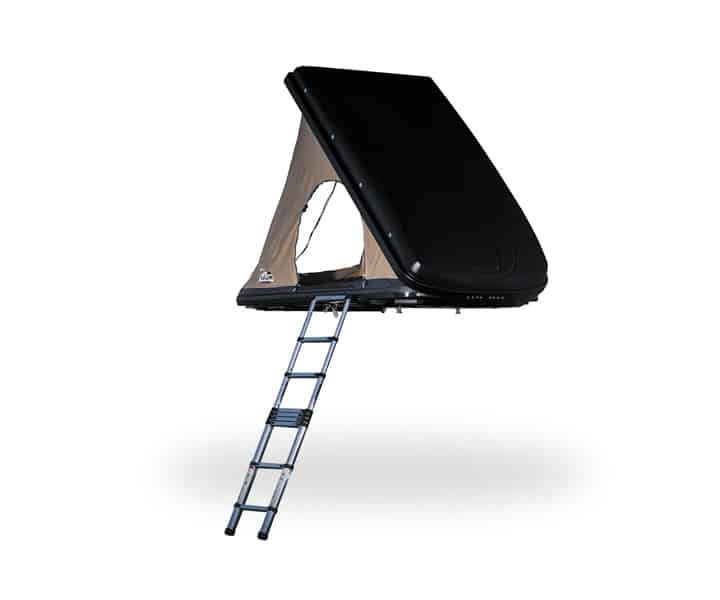 The budget and original solution for 2 adults...
Roof tents to be installed on your vehicle and sleep under the stars.
CLICK HERE TO CHECK AVAILABILITY AT THE AGENCY OF MY CHOICE :

 Brand new roof tent

Places for the night
FEATURES
HABITABILITY
TECHNICAL SPECIFICATIONS
FEATURES
How about transforming your car into an RV? The Arizona roof top tents can be installed in a few minutes and abracadabra, you are on the road to adventure!
The Arizona roof top tents are compact and can accomodate 2 people in complete comfort.
The Arizona roof top tents are really easy to put up on top of any kind of car regardless of its size or model (traditional road cars or utility vehicles). Your vehicle must be equipped with two standard roof rails that run across the width of your car that can support 75 kilos or more.
With its fabric made of waterproof cotton that breathes, a unique ventilation system and it's user-friendly operation, a good night's sleep is guaranteed.
The tents unfold and fold up in just a few seconds. They are made to withstand winds of up to 100k per hour when they are mounted. Our Arizona tents are rented out with all the necessary gear you will need (to be stowed in your car). You will be completely autonomous with your : electric ice chest, camping stove, dishes, water tank and solar heated shower.
Do you want to travel with 4 people in a mini Caretta caravan? Kit it out with an Arizona tent and you have 2 bedrooms for 2 couples or parents and children. Cool!
The Arizona roof top tents are made in France by a company called NaïtUp (Duö model).
HABITABILITY
TECHNICAL SPECIFICATIONS