IBIZA RECREATIONAL RENTAL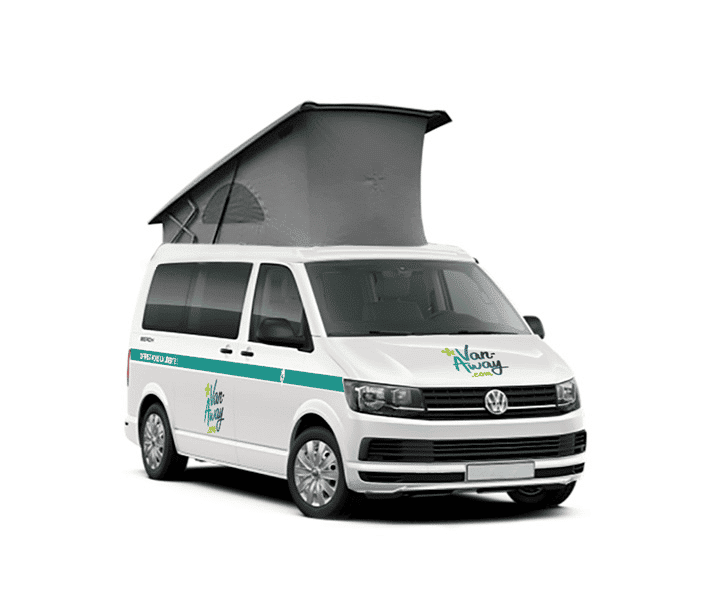 Volkswagen California Beach T6
The Ibiza recreational minibus is capable of transporting up to 5 passengers
* Average price in low season
may vary depending on office
CLICK HERE TO CHECK AVAILABILITY AT THE AGENCY OF MY CHOICE :
CLICK HERE TO CHECK AVAILABILITY AT THE AGENCY OF MY CHOICE :

300km/day

Two drivers

Brand new vehicle

Europe Insurance & Assistance

Places for the night
FEATURES
It's exceedingly flexible interior means that it can adapt to all your needs : A touring campervan for up to 5 people with its kitchenette, pop-up roof.
It's pop-up roof allows for standing room inside the van and provides a sleeping area (slatted bed frame for 2 persons, 125x200cm), right under the stars. Downstairs, the rear folding bed (145x200cm, equipped with a thick mattress) can be completed if needed with a child cot installed on top of the front seats.
Thanks to its size and configuration, the Ibiza campervan is your hotel on wheels for your short roadtrips, sport events, parties and other cultural events.

2-5 seaters configuration
HABITABILITY

SPACE
Our customised Ibiza minibuses offer you all the basics needed to cook independently from the back of the van. If you travel off-season, you can fit a hatch-back tent that creates a closed, protected room at the rear of the van where you can cook, eat, change your clothes, shower…

BETH
Convert your customised van into a hotel room for 4 or even 5 people!
A room with a view! Raise the roof and you have a mezzanine bedroom with a slatted bed (125x200cm), comfortable and fitted with windows!
Abracadabra! In a matter of seconds the 3 seater back bench folds out. Fitted with a made-to measure mattress (140×200), it is super comfortable and can easily sleep 3 young children.
There's a spare bed if you need it which can be made up in a few seconds underneath the front seats.
Blackout curtains are supplied for all the windows which protect the interior from the cold, the heat, humidity and light.
The bedding optional extra which includes hand towels includes all that you need. Don't worry about packing sheets, duvets, duvet covers, pillows or pillow cases. They are all included for a small additional charge.

CHILDREN
Hitting the road with your baby or your children? An excellent idea… they adore a great big adventure and you can easily combine travelling with childcare. Nap time? Snack time? What could be easier than pulling over, parking and looking after them? And all those wasted holiday moments spent looking for a hotel or a restaurant…you just need to find a place to park and everything is under your roof! It's called freedom…
Are you coming from far away via train or plane? No problem, we can arrange child car seats (catagories 1-3).
For sporty types, backpacks allow you to carry your gear when you head into the great outdoors – maximum weight : 18kgs. Ask your VAN-AWAY agency about the availability of other optional extras when you make your booking.

KITCHEN
A kitchinette equipped with clean water tank, camping stove, extra gas cylinders, storage, dishes and kitchenware (supplied) will allow you to whip up all your simple meals.
The compression fridge hooked up to the auxiliary battery keeps your food and drink fresh even during the height of summer.
What's cooking? Install the table, set it, swivel the two front seats and welcome to your dining room. For outdoor dining, nothing could be simpler – take out the table, and use the stools or camping chairs provided!
Go for the optional extra gas barbecue that includes all the cylinders you will need throughout your trip. This extra appliance allows you to grill meat, fish and veggies outside even in places where traditional barbecues are prohibited.

COMFORT
We know how important comfort is when you are on the road, racking up the kilometers. All our vans and customised camper vans are brand new and kitted out with the most up-to-date accessories.
When the temperature rises, you will be grateful for the airconditioning that features in all our vehicles. Try to limit its use only for very hot conditions or to de-fog the windscreen. We encourage you to think green…
Switch on the cruise control. It will keep fatigue at bay for those long stretches of highway.
The hands-free bluetooth kit means you won't be distracted when the telephone rings and you can make and accept incoming calls without taking your eyes off the road.

HEATING
Our Ibiza and California Origin series vans have space heaters that we supply for free and that run off the 230V plug. You just have to hook the van up to the mains electricity!

SHOWER
All of our vans and mini-caravans are customised by professionals. They have thought of everything, every square centimeter is used so there is no wasted space.
Rince yourself off after a day at the beach or trekking through the mountains. All our vans and mini-caravans are fitted with a hand-held shower. Go for the portable shower optional extra that works off of a hot, pressurised water tank. The Tasmania and Marco Polo vans benefit from an oversized water reservoir. The optional extra hatchback tent turns the back of the van into an instant shower stall!
In addition, all of our vans have built-in 12V outlets, LED lights, and lots of well-designed storage spaces to store your gear.

ELECTRICITY
All our vans and mini-caravans are equipped with fresh water tanks that contain from 20 to 60 litres depending on the models. Some have waste water containers that can be emptied regularly at designated sites.
In addition, all of our vans and mini-caravans have 12V outlets using the cigarette lighter or USB so you can recharge your phone or tablets.
All our vehicles are fitted with one or more auxiliary batteries that give you 2-3 days of autonomy for running the fridge, the water pump, lights etc). Do you spend lots of time driving? These batteries recharge automatically. Will you be staying put during your trip? Hook up your van or mini-caravan to mains electricity with the cable provided to recharge your batteries.

ACCESSORIES
Do you want even more comfort and convenience?
VAN-AWAY offers a host of optional extra accessories to give your tent a personal touch.
TECHNICAL SPECIFICATIONS
Volkswagen California Beach T6
5 : 2 double beds + extra bed
Width : 1,9m / Length : 4,9m / Height: 1,99m
Fuel consumpt.(manufacturer data)
Urbaine : ~7 l/100km / Extra-urbaine : ~ 5,9 l/100km / Mixte: ~6,3 l/100km
Front airbags / Side airbags / ABS
Cruise control / Bluetooth / Backup sensors / Power steering
Stationary heating system